It's finally here! NCIA's 3rd Annual California Cannabis Business Conference kicks off NEXT WEEK! Cannabis business professionals will come together to network with their peers and elevate their understanding of the industry. To help you make the most out of your time in Long Beach, please take a moment to carefully review our pre-show checklist.
Save the Venue Address

Long Beach Convention Center
300 East Ocean Boulevard,
Long Beach, CA 90802
The entrance can be found on the east side of the building. Click here to view the PDF
Know Where and When to Pick Up Your Badge Badge Pick-Up Hours:
Tuesday, October 8: 7:00 AM – 6:00 PM PDT
Wednesday, October 9: 9:00 AM – 5:00 PM PDT
Badge Pick-Up Location:
Registration is located on the Pacific Lobby of the Long Beach Convention Center
What to Bring: You should receive an email with a barcode from 

[email protected]

 and bring it to the Quick Print to the Quick print Stations. There you will scan your bar code to print out your badge and tickets.
Download the California Cannabis Business Conference Mobile App

Keep the most up-to-date information about everything happening at California Cannabis Business Conference right in your pocket with our event app! You'll also get alerts with important announcements (make sure you opt in). Head for the iPhone app store or Google Play and search for "California Cannabis Business Conference" to find and download.
Review the Agenda & Speaker Details – Don't miss a panel! Take the time to create an agenda in the app that specifically meets the needs of your business.
Visit NCIA's Membership Engagement Center
Don't forget to say 'hi' to the NCIA team on the expo floor at booth 226! While you're there, learn more about what your NCIA membership can do for your business and the latest efforts we're making to further protect the industry.
Enter to Win Priority Seating at an Exclusive VIP Lunch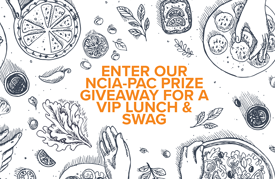 Please know that 100% of your giveaway support will go to the NCIA-PAC, a tool that our industry uses to build influence in Washington, D.C. To learn more about the NCIA-PAC, contact Maddy Grant at (240) 422-5977 or Madeline@TheCannabisIndustry.org.
Note all donations must be made using personal money (not corporate), due to FEC guidelines. 
First Prize:
Priority Seating at NCIA VIP Lunch on Wednesday, October 9.
At lunch you'll sit in a closed-door meeting with NCIA's top advisors, brightest policy minds, and the top levels of the NCIA-PAC Leadership Circle.
Second Price:
NCIA PAC Swag Bag including branded hoodie!
$10 – 1 entry, $50 – 6 entries, $100 – 12 entries
Attend the General Session
TUESDAY, OCTOBER 8 | 10:15 AM – 11:15 AM
PACIFIC BALLROOM
Finding the right financing for any business can be a challenge… Companies in the cannabis industry often have even bigger hurdles. But just because big banks won't let you borrow doesn't mean you are out of luck!
Join Codie Sanchez of Cresco Capital Partners and Troy Dayton of The Arcview Group as they discuss general best practices for anyone looking to fundraise and invest, the future of finance for the industry, and of course the recent strategic investment of Arcview by Cresco. >>Read More
Unwind and Make Connections at the Networking Reception
TUESDAY, OCTOBER 8 | 5:00 PM – 6:00 PM
EXHIBIT HALL C
Come on over to the exhibit hall to unwind, compare notes from the day and meet with our awesome exhibitors. Enjoy light hors d'oeuvres and beverages. All attendees receive one drink ticket and can purchase additional drinks at the cash bar.
Must be 21 years of age and older to obtain beer, wine, and liquor. Proof of age may be required by presenting valid government-issued identification.
Head to the Food Trucks for Lunch
TUESDAY, OCTOBER 8 & WEDNESDAY, OCTOBER 9 | 11:30 AM – 4:30 PM
HYATT PATIO
It's your choice – get outside and have lunch from one of the following trucks!
Brew Wing
Cocina Fresca
Goshen Cuisine
Stopbye Cafe
The Tropic Truck
Flash Sale
Do not miss your chance to get the deepest discounts for our upcoming conferences next year! While onsite, purchase your ticket for our 2020 shows in the Northeast, Midwest and even Cannabis Business Summit in San Francisco. Tickets start as low as $99!
Look & Act Your Best
Attendees are expected to maintain a high level of professionalism while attending California Cannabis Business Conference. This includes, but is not limited to, dressing in appropriate business-casual attire and engaging in respectful conversation among fellow attendees.
Reminder!
Cannabis use at California Cannabis Business Conference is prohibited. State and local laws regarding medical and adult-use/recreational cannabis notwithstanding, Badge Recipient understands that use, possession, and/or distribution of THC products at California Cannabis Business Conference and at Long Beach Convention Center are strictly prohibited due to local and venue regulations.
Join the #CACannaBizCon Buzz
Let everyone know you'll be at California Cannabis Business Conference! Use the hashtag #CACannaBizCon and follow NCIA on Twitter, Facebook, and Instagram!